Reactors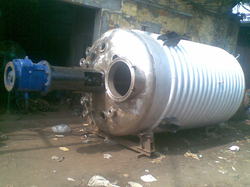 VenketeshwaraManufacturer & Exporter of Reactor. Our product range also comprises of Storage & Mixing Tanks, Industrial Blenders and Food Processing Machinery.

Reaction vessels are at the heart of a chemical plant. They are where the chemical Changes and reactions take place. The capacity of reaction vessels can range from 50 liters to 10,000 liters and they are generally made from mild steel and stainless steel. The ingredients for the chemical reaction are called the reactants. These raw Materials can be loaded into the reaction vessel in a variety of ways. Measured Amounts of reactants may be pumped into the vessel through pipes attached to inlet Valves. Powders or liquids may be poured into reaction vessels using large funnels, called hoppers, connected to the top of the vessel.
Applications:
The reactor vessel used in the first commercial nuclear power plant, the Shipping port ... In a nuclear power plant,
Fit for pharmacy, chemical industry, dye, resin and food Industry
It can be widely used in Liquid Resin, Rubber, Pesticide, Glue, Dye, Medicines.
Our Speciality

  Range of Products

HT/HP Vertical Dyeing Plant
Single package dyeing machine
Sample Dyeing Machine
Yarn Printing
Machine(Space Dyeing)
Package Carrier & Loose Fibers Carrier
Stock Tank
SS Dye Spring
Motorise Pneumatic press
Auto Clave
HT/LT Panels
All type of Textile , Chemicals & Pharmaceuticals Machineries